♦  Welded Wire Mesh Panels, Fence & Gabions
Welded Wire Mesh is a welded steel wire mesh manufactured from Bright drawn wire, electrically welded at the intersections. Because it is welded it can be cut or bent to the shape Required without the wires falling apart and forming their own Selvage when cut flush.
Welded mesh is made in rolls and Sheets in gauges as light as 2.6mm up to 7mm in diameter and in Meshes from 50mm x 50mm. The physical properties of The wires used are rigidly controlled to produce a welded mesh that has maximum weld, strength combined with Ductility. The steel specification allows for a bright drawn wire having a tensile strength of 460-620N/mm2 with a High resistance to fatigue.
WELDS
All intersections are resistance welded and without reducing The tensile strength of the wires the welds have an average
Shear strength is equal to 80 percent of the wire strength.
Welded mesh has an infinite number of uses, some of the most general applications being:
Partitions and enclosures, machinery and window guards, ventilator guards, tree guards, shelving,
Racking and grills, safety barriers, security cages, fireguards and fan guards, fencing and gates,
Stairways, balustrading and catwalks, agricultural and horticultural applications, poultry pens,
Animal pens, cages and aviaries, gabions for river and coastal protection, crates for packing and
Materials handling, pallets, trays for stillages for factory and industrial applications, cable trays, skip
and roof bolting and wall lagging, shaft linings, bulkheads and cargo cages, anti-Spalling material
and mesh for boiler linings, garden protection, display work, litter bins, clothes And storage lockers, etc.
Welded mesh for all general wire-work purposes.
It is important, when ordering, to state clearly a full Specification, preferably in the following order
◆ 1. Welded mesh reference Number.
◆ 2. Size of mesh.
◆ 3. Gauge of wire.
◆ 4. Width and length of sheet or roll.
REGULAR CENTRES
◆ 5. Cut flush or with overhangs.
◆ 6. State type of finish required
♦ SECTION 1 – Standard Metric Welded Wire Mesh
STANDARD SIZES
The lengths and widths given in the tables are standard sizes that are normally held in stock. Special lengths or
widths can be made to order, but standard sizes are more Quickly obtainable.
In square fabric the cross wires project 50mm. beyond each outside wire, and in Structural, Long and Wrapping
they Project 50mm. The width for which we charge is the distance from tip to tip of the cross wire and
longitudinal wire.
ADVANTAGES
It is safer to allow a working stress in wire meshup to 230 N/mm• than to allow 140N/mm• in rolled mild steel
rods because.
(a) Hard drawn steel wire to British Standard 4482 has a minimum breaking strength of 570N/mm• and a
minimum yield point of 485N/mm• whereas that for rolled mild steel is only 248N/mm• The yield point is more
important than the ultimate breaking strength. As mild steel is permanently deformed if stressed beyond the yield
point. The factor of safety calculated on the yield point is 2.12 for welded wire mesh and only 1.8 for mild steel.
(b) Hard Drawn steel wire is perfectly regular in cross-section, whereas rolled mild steel rods of smaller diameter
frequently vary up to 10 percent. In addition to being regular in cross-section, Drawn wire is the same Quality and
strength from the skin to the core.
Welded wire mesh as a reinforcement is equivalent to rolled mild steel rods weighing at least 60 percent more.
Welded wire mesh is supplied in sheets or rolls, one roll being equivalent to over 260 loose rods that have to be
Welded together at the site. With Welded wire mesh there are no small pieces that can be lost.
Welded wire mesh is simple to lay and once in position is not readily displaced by workmen when laying the
concrete as is often the case where bars are used.
PRINCIPAL APPLICATIONS
Welded wire mesh is mainly employed for reinforcement where an area of concrete is laid such as floors,
roofs foundations and roads.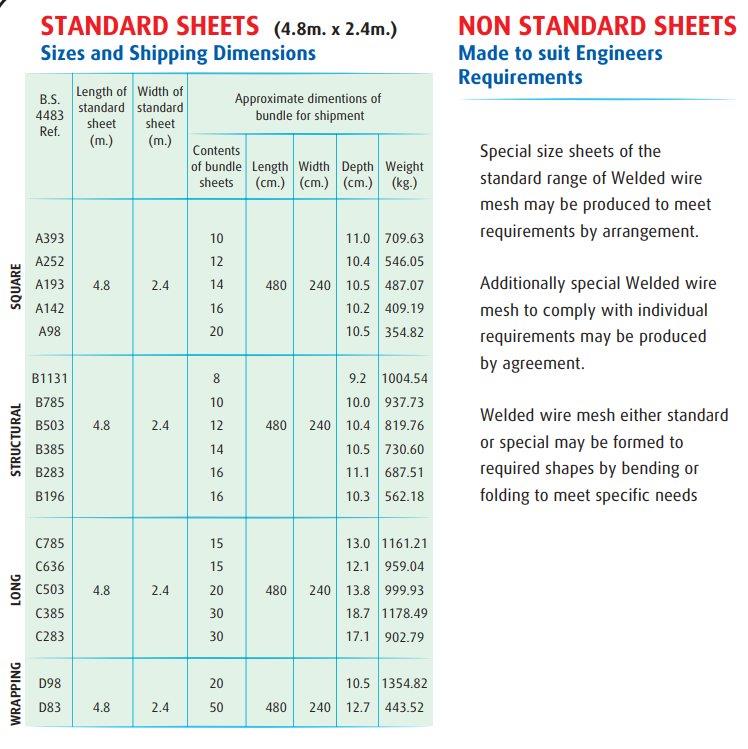 The table for the main bending reinforcement required in suspended floors is based on the imposed loading given
in CP3 chapter V of the Code of Basic Data for the Design of buildings and also the code of practice for the Structural
Use of Reinforced Concrete in Building: C.P 114 Tables A Give the thicknesses of concrete and the Welded Wire Mesh
required in solid floors to carry the imposed loading for various purposes.
These tables are for continuous spans when adjacent spans do not vary from one another by more than 15 percent of
the longer span. The concrete should be 1:2:4 by volume gauged in the proportions of 50 kg. Portland Cement 0.07 m• clean well-graded sand 0.14m.• clean gravel or crushed stone graded uniformly from 5 mm. to 19mm. with the minimum
quantity of water to give a workable mixture.
we recommend that the cement content for this mix should be not less than 300 kg. per cubic meter.
♦ LAYING WELDED WIRE MESH
The sheets of Welded Wire Mesh with the specified cover of concrete should be laid side by side with the main
longitudinal wires running in the direction of span of the slab. In order to comply with the requirements of CP 114
clause 311c it is necessary to have a minimum percentage of reinforcement in the direction parallel to the supports.
The Welded Wire Mesh has heavier cross wires and providing the area of these wires is at least equal to 0.12% of
the gross cross-sectional area of the slab thickness, the sheets may be side lapped 150mm. In the case of "Long
Welded Wire Mesh", however, the sheets are not side lapped and rods parallel to the cross wires must be included.
Rods must also be provided for the Structural Fabrics if the 0.12% requirement is not met.
It is advisable to reinforce ground slabs with Welded Wire Mesh not only to prevent unsightly cracks arising from
the contraction of the concrete in the setting. But also to assist in carrying the loads over areas in which support from the
ground is uncertain.
When ground slabs are required to carry loaded it may be necessary to reinforce the top and bottom.
In such cases, our engineers will advise on the thickness of concrete and the amount of reinforcement.
Download Welded Wire Mesh catalog PDF File for more details.
NOTE: Leave Your Message, Our Professional representative will contact you.